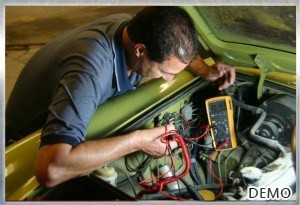 Do you have a dash light that comes on sporadically? Does your car blow a fuse regularly? Are you looking for a reliable company to check on your vehicle's electrical system?
Any vehicle uses three basic systems to work — mechanical, electrical and chemical systems. If any one of the systems do not working properly,  the vehicle may not run to its full functionality.
We will prepare a plan to make sure your electrical system repairs are managed correctly. We are one of the most effective electrical system repair organizations.
Any size of the vehicle whether small, large or mid-sized and any type of the vehicle like cars, vans, busses, trucks, tractors or trailers, we will evaluate their electrical systems professionally and service them. We specialize in auto electrical diagnosis and repair.
Our diagnosis will cover the following, plus much more: 
Automotive Charging System repair with proper diagnostics
Alternator replacement
Battery installation/Life Testing
Power windows/seats/locks diagnostic and repair
Headlights, turn signal lights, dome lights and taillights bulb replacement
Trailer light installation and repair
Why choose us?
Quality Work
No Surprises
Timely Turnaround
Personal Service
State-of- the- art technology
Honest, professional, reliable, and friendly
If you are having trouble with your vehicle's electrical system and need a professional opinion, we are here to help. Contact us at (602) 548-0901
Does your car need wheel alignment? Contact us first!